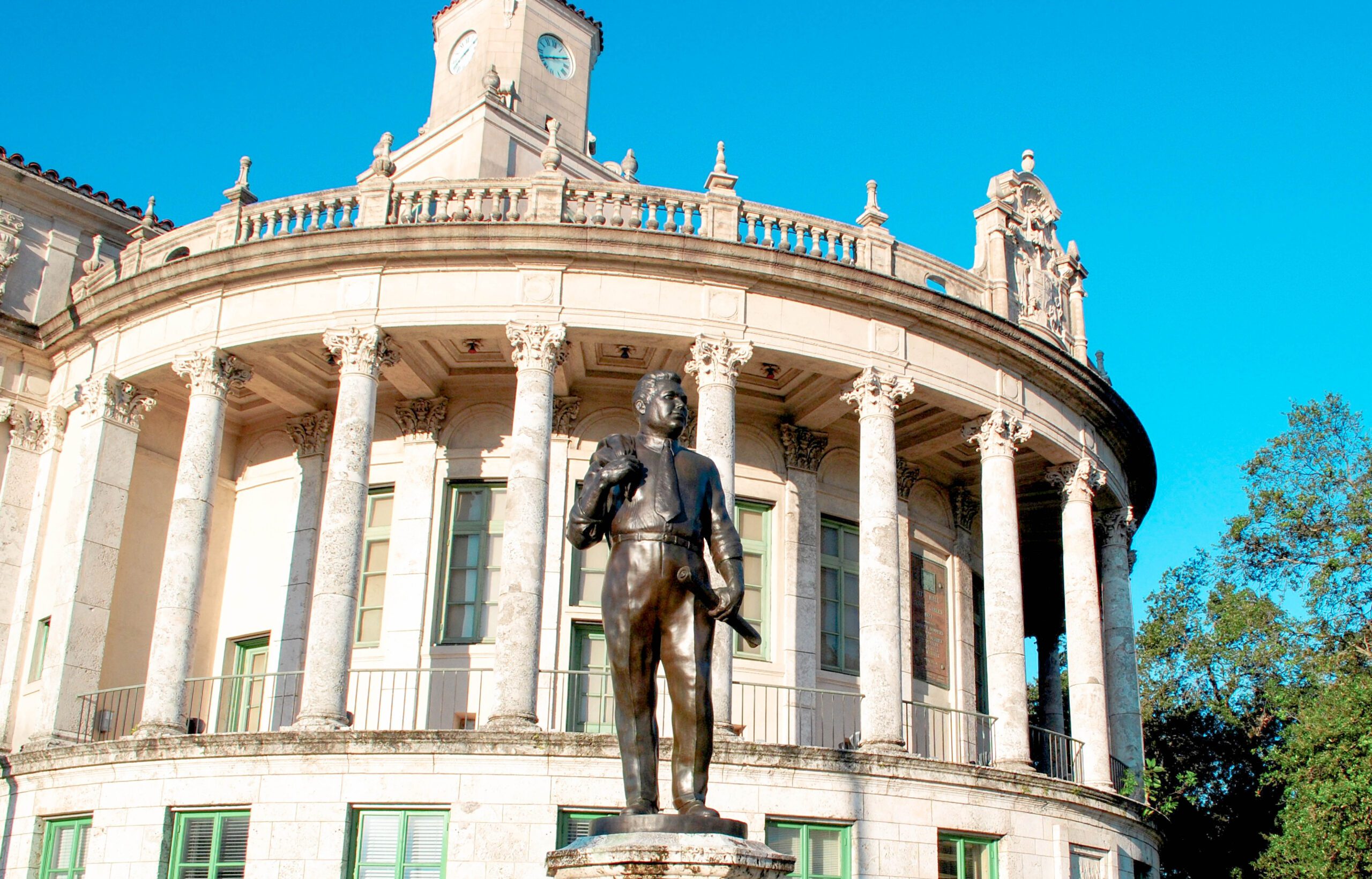 George Merrick
The City of Coral Gables did not start off like any normal city. It was actually a grapefruit farm when it was first established. In 1899, Reverend Solomon Merrick, George Merrick's father, bought 160 acres of land and created avocado, orange, and grapefruit groves. By 1911, Reverend Merrick had passed and George Merrick, the city's founder, started to get into real estate. In 1921, he had accumulated 1,200 acres of land. Coral Gables' development was greatly influenced by The Beautiful City movement in the 1900's hence the city's nickname. Because of this movement, Merrick decided to go all out and make this city as wonderful as it could be. He hired architects and artists to design everything for the city, including lampposts and corner signs. The city chose ocher and sienna as its main colors, and this gave it a very old-fashioned feel. By 1925, the city was incorporated. During its development, Merrick planted over 20,000 shrubs and trees. His love for vegetation and beautiful Mediterranean architecture can still be seen today on every street and in every building and home.
Merrick Park
Merrick Park is a mall that was established in 2002. It is known for its three-level shopping center and its high-end retailers. It is the prime shopping center for anyone looking to live a luxurious lifestyle. Many glistening fountains, alluring sculptures, and Coral Gables' signature Mediterranean architecture accent the shopping center. It is named after the founder of the City of Coral Gables, George Merrick. Not to be confused with the actual park called Merrick Park located on 400 Biltmore Way, this mall has many different shops and restaurants for people looking to improve their quality of life. Fashion shops at Merrick Park include Nordstrom, Banana Republic, Gucci, and bebe. If you are looking for a bite to eat, stop by Yard House, Sawa, C'est Bon, or grab some snacks and tea from TEAVANA.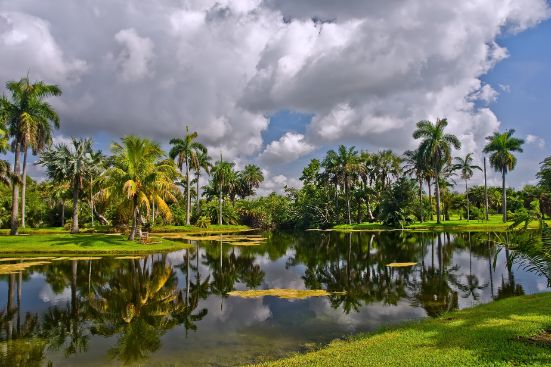 Fairchild Tropical Botanic Garden
This Tropical Botanic Garden is found near the coast along Old Cutler Road. Robert H. Montgomery established the gardens in 1936. He named it after his friend David Fairchild, a well-known plant explorer. Many plants collected by Fairchild are still growing in the gardens today. The Gardens act a community hub for Coral Gables. It host many of the regular and annual events held in the Gables. Also, many educational camps and lectures take place there year round. Scientific research and wildlife conservation are two of the main tasks dealt to scientists that work at the gardens. Many art exhibits and concerts can be experienced on the premises year-round.
The Biltmore
The Biltmore Hotel is an integral part of the City of Coral Gables. John McEntee Bowman, a hotel magnate, and Mr. Coral Gables himself, George Merrick, designed the hotel back in 1924, right before the city was incorporated. They aimed to provide the city with a hotel that would be a center of sports and fashion. The same team had also designed other hotels, including a few more Biltmore Hotels, around the country. On top of the 400-room hotel, the $10 million project also included a golf course, country club, tennis courts, polo fields, and a massive swimming pool, which is the largest hotel swimming pool in the Continental United States. The site personified 1920s Miami: it was glorious, glamorous, and up-and-coming. Many different kinds of celebrities visited the hotel throughout the years. Some of which were President Franklin D. Roosevelt, Dukes and Duchesses, Bing Crosby, and even Al Capone. During World War II, the hotel was converted into a giant military hospital and named it the Army Air Forces Regional Hospital. Many airmen spent time in those temporary wards of the Biltmore. After some ups and downs over the decades, and even after a 10-year unoccupied period in the 70s and 80s, the Biltmore has maintained its place as a historic landmark and hub of luxury in South Florida.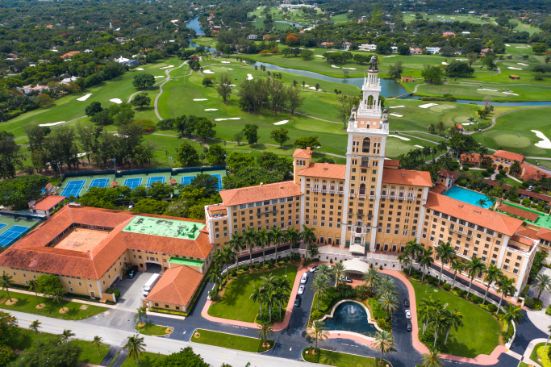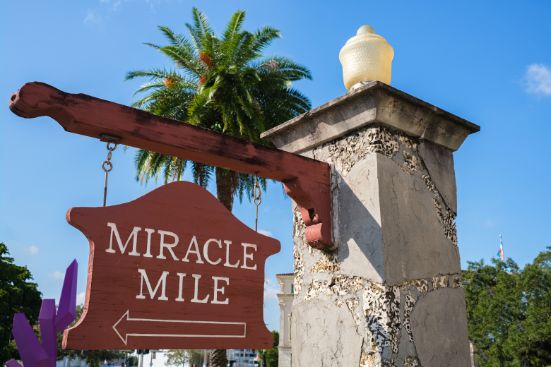 Miracle Mile
This half-mile section of Coral Way is the center of Coral Gables' business district. Many various shops, business, restaurants, and art venues line the road. It was founded and designed by George Merrick back in 1922, even before the City of Coral Gables was established. He wanted to make an area where all of the businesses in Coral Gables could be less than a two-block walk from each other. Because of his efforts, this area is known as a very pedestrian-friendly place to shop and eat. Just like the city itself, Miracle Mile has a very Mediterranean and tropical feel to it. When you are shopping on the Mile, you know that you are shopping in Miami. Some shops include Barnes & Noble, Bellini, Joseph A. Banks, Retro City Collectibles, and so many more. Restaurants include Ben & Jerry's, Iron Sushi, Lotus Garden, and Seasons 52, among others.
Venetian Pool
The Venetian Pool is another gem given to Coral Gables by George Merrick. The pool was originally named the "Venetian Casino" when it first opened in 1923. It was formed out of an existing coral rock quarry. The beautiful Mediterranean style pool has two towers that look out over Coral Gables. Early on, the site was popular with many celebrities. Orchestras would even play in the bottom of the emptied pool on special occasions. The water that fills the pool comes from an underground aquifer. The Venetian Pool is also the only pool in the nation to be included in the National Register of Historic Places.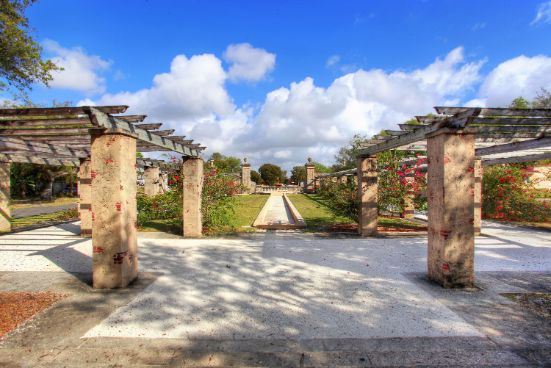 PARKS
Coral Gables is chock full of parks, golf courses, and tennis clubs. With over 40 different options, there's sure to be a scenic park near you. Each one has its own feel and personality, just like everything else in the City Beautiful. The Coral Gables park system is a part of Playful City, USA.
Salvadore Park:
1120 Andalusia Avenue
Coral Gables, FL
Salvadore Park is a 3.7-acre park, loaded with tons of amenities. Located near Coral Way, this park has about 13 fully functional tennis courts, a playground, a walking path, picnic tables, and plenty lush, scenic views. It is the perfect park for having a picnic and enjoying the simple pleasures in life.
Phillips Park:
90 Menores Avenue
Coral Gables, FL
Phillips Park, like Salvadore Park, has a lot of amenities for the entire family. On top of tennis courts and scenic views, this 3.2-acre park also boasts basketball courts, ball fields, a walking path, and pavilions, perfect for family gatherings. If you are throwing a birthday party or some other kind of event, you can rent some space within the park. Basketball and soccer pick-up games are held here frequently, so stop by for some sporting fun.
William H. Kerdyk, Jr. and Family Park:
6611 Yumuri Street
Coral Gables, FL
The William H. Kerdyk, Jr. and Family Park can be found on the south side of Coral Gables. This pet-friendly 3-acre park has everything you could want in a park. Bring Fido along for your daily jog, or play with him after you workout on one of the outdoor fitness machines. The park also has a playground for your tots, and it even has a mini rock-climbing area for energetic kids. This is one beautiful park that you should not miss out on.
Ingraham Park:
4751 West Ingraham Terrace
Coral Gables, FL
This park is smaller than the other parks mentioned before, but it makes up for its size with its gorgeous scenic views. Many benches line the canal and walking path located in the park. Couples are often seen talking and enjoying the water. It is a perfect place for lovers to get away from the bustle of the city and have a picnic.
War Memorial Youth Center:
405 University Drive
Coral Gables, FL
The War Memorial Youth Center is nestled in the heart of Coral Gables. This park, which is dedicated to the men and women that served our country in the Armed Forces, has basketball courts, ball fields, plenty of picnic tables and benches, and a fully functional community center. The playground here covered, so its perfect for kids to play on during hot and sunny days. The park is also 10.6 acres, so there is plenty of room for the entire community to enjoy.
GOLF
Coral Gables features three well-known golf courses, all created by the famous course designer, Donald Ross. Each one has its own unique personality and layout. If you are an avid golfer looking for top-notch courses and high-quality experiences, then Coral Gables is the perfect place for you.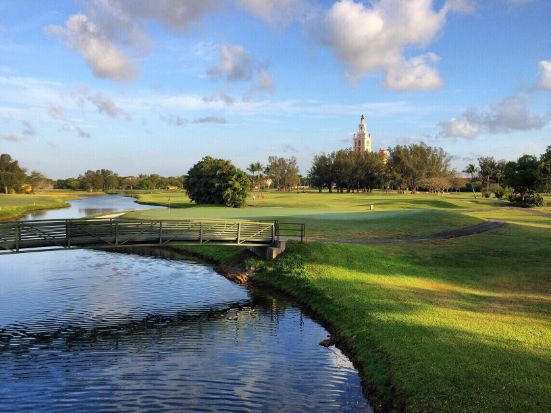 Biltmore Golf Course:
1210 Anastasia Avenue
Coral Gables, FL
The Biltmore Golf Course is one of Miami's most historic and well-known courses. Located right next to the famous Biltmore Hotel, this course was designed by Donald Ross back in 1925. The Par 71 course features a challenging 6,700-yard layout full of tricky greens and water-lined doglegs. It is also host to the Junior Orange Bowl Golf Tournament, the nation's largest junior golf tournament. Many famous people, including President Bill Clinton, Tiger Woods, Will Smith, and Bill Murray, have played at the course.
Granada Golf Course:
2001 Granada Boulevard
Coral Gables, FL
Granada Golf Course, which is the sister course of the Biltmore Golf Course, was also designed by Mr. Ross back in 1923. This 9-hole course is the oldest one of its kind in Florida. The course offers many programs for people of all ages and skill levels. Burger Bob's, considered the 10th hole of the course, is a community favorite restaurant located near the pro shop at Grenada.
Riviera Country Club Golf:
1155 Blue Road
Coral Gables, FL
This private golf course can be found just south of the Biltmore Golf Course. It features a fully functional pro shop for its many private members. It was also deigned by Donald Ross in 1924.